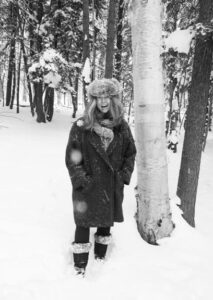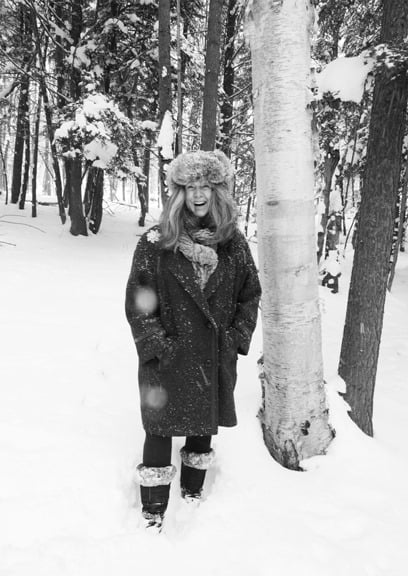 Education
1992 School of Visual Arts, New York MFA (Fine Art)
1989 Ontario College of Art Experimental Film
1988 The Banff Centre of Fine Arts Residency
1984 Ontario College of Art History of Women in
1975 University of Western Ontario BA (hon.) Visual Art
Exhibitions
2019 Frozen Gesture ll exhibition, with Michael David and David Cohen Critical Thinking Residency, NYC
2019 Table of Contents, Solo Exhibition, Partners Hall Gallery, Muskoka, ON
2017 Call for Brunswick, Stohles Ave Exhibition, curated by Vida Sabbaghi NYC
2017 Nasty Women exhibition, Global Art Exhibitions and Activism NYC
2017 Under One Skin, Canada 150 Solo Exhibition, Annex Gallery, Muskoka ON
2013 Bedminster Contemporary Art center, NJ, Juror John Yau
2013 The Wave Passes, Tom Thomson Gallery; Curator Virginia Eichhorn
2012 Canadian Spirit, The Art Space Curator Mary Rashleigh
2011 G8 Exhibition, Summit Centre, Muskoka ON Curator; Mary Rashleigh
2009 Warc Gallery TO. solo exhibition The First Abstraction
2008 Howard Park Institute TO. Showcase
2006 IndexG Gallery TO. Nuit Blanche solo exhibition Fearful Symmetry
2006 Lonsdale Gallery TO. New Media exhibition curated by Belinda Chun
2004 35th Anniversary Faculty Exhibition, TSA, Spoke Club, Toronto
2004 The Remarking of Venus, Gallery Gora, Montreal, Quebec
2004 Water, group exhibition, DNA Gallery, Provincetown, Massachusetts
2004 The Morphology of Venus' Tough Little Romp, solo exhibition,
2002 Where Thought Resides, solo exhibition, Lonsdale Gallery, Toronto.
2000 Passed The Grid and on ''Til Morning, solo exhibition, Lonsdale Gallery, Toronto.
2000 Night Vision-Installation, solo exhibition, V. MacDonnell Gallery, Toronto.
1999 Gallery One, Tokyo, Japan.
1998 Women Beyond Borders, Travelling International Exhibition, Cuba, United States, Greece, Australia.
1998 Canadian Art Series: The Mantle Project, solo Exhibition, curator, Samantha Hawes, TO.
1998 Be Seen, Studio Exhibition sponsored by C Magazine, Contemporary Art Journal, TO.
1997 The Aphrodite Drawings, Women's Art Resource Center, solo exhibition curator: Reni Packer, Toronto, Filmed by Theresa MacInnis for documentary, The Other Side of The Picture, National Film Board of Canada.
1993 Based on a True Story, Collaborative Exhibition with Carter Kustera, Josh Baer Gallery, NYC.
1992 Dogs, Whine and Precious Objects, Initiated and participant in International collaborative installation West Village Apt., NYC
1992 Mapping of the East River, 40′ Installation in East River, Manhattan.
1992 Distress, Wooster Street Visual Arts Gallery, curator: Jackie Winsor, NYC.
1991 All Things, Tribeca Lab, curated by Al Ramos, NYC.
1991 Poetic Justice, Wooster Street Visual Arts Gallery, curator: John Lees, NYC
1990 Wear Gloves to Touch, Solo Exhibition, Lancaster Studio, Toronto
Awards
2008 Toronto Arts Council Mid Career Project Grant
2008 Ontario Arts Council exhibition assistance Grant
2004 Exhibition Assistance Grant, OAC
1999 Canada Council Grant
1998 Joyce Wieland Protege Honour, Toronto Arts Foundation
1998 Ontario Arts Council, Project Grant
1998 Nominee for K.M. Hunter Award
1989 Ontario Arts Council Short Term Grant
1988 Hudson Bay Scholarship Award : The Banff Centre of Fine Arts
Projects and Professional Practice
Toronto School of Art Faculty 2002 – 2008
Toronto School of Art Faculty Steering Committee 2004 – 2007
Curator of TSA student off-campus exhibitions2002 – 2007
Lecturer for Visiting Artist Series U of T 2007
Toronto Outdoor Art Exhibition Adjudicator 2004
Centre of Contemporary Canadian Art Data Researcher 2003
Curator of Canadian Art Series The Mantle Project for Chapters 1997 – 2002; Initiated concept to:

Introduce /promote Canadian visual art in the context of a public enterprise
Broaden the audience for Contemporary Canadian Art
Encourage publishers to produce more books on Contemporary Canadian artists
Curate monthly solo exhibitions and slide lectures at five locations
Organize and host slide lectures in conjunction with exhibitions
Researched and ordered relevant critical essays, catalogs and books
Artists included: Napoleon Brousseau, Rae Johnson, Aganetha Dyck, Joyce Wieland (work) Charles Pachter, Rita Letendre, Jeannie Thib, John Scott, Rebecca Baird, John Dickson, Julie Voyce, Richard Mongiat, Andy Fabo, Isaacs Innuit Gallery, Gretchen Sanchey, Michael Balser among many others
Ecotecture Executive Director: Mandate to develop global eco-art parks1999
Lecturer MFA Lecture Series School of Visual Arts, New York 1999
Women Beyond Borders: Co- Coordinator of traveling International Exhibition of work by 250 artists from 14 countries. Participated in installation, design, fundraising, publicity, and documentation. Community Outreach Installation was at the Dufferin Mall, Toronto, 1998
Contributing Editor, Matriart Magazine 1996 – 1999 Matriart is a North American
Quarterly Art journal dedicated to the dissemination and advancement of art and curatorial practice by artists and curators who are women
Tribeca Lab Manhattan : Founded exhibition space in Tribeca 1992 Curated solo exhibitions of work by International artists
NBC Scenic artist crew, Saturday Night Live NYC 1991 – 1993